Ethical Box, Old Spitalfields Market and Anjoy
Phew, it's been busy times for Lucky Escape. We can now share quite a few things we have been recently working on!
Firstly at the end of November we worked again with the ever loverly people at Ethical Box on their exciting pop-up shop just off Brick Lane.
We really love what Ethical Box do - providing a platform to bring together ethical brands - and this is what their pop-up event also entailed. They brought together some of the brands that sell on their platform, and gave them the chance to sell and raise their profile on Cheshire Street - Just off Brick Lane in Shoreditch - over one of the busiest shopping weekends of the year. The event was held at Beach London and we were excitingly asked to create a graphic for the window.
As Ethical Box were also looking to heighten their own profile with the event, we wanted to make sure their name and values (as so well put in their slogan - "Forget the Ego,embrace the Eco"), took centre place. We also wanted to knit in their promotional water bottle give away (which we also had a hand in designing the labels for), so we included these in the top of the design to aid decoration. Lastly we wanted to highlight all the brands involved so each had their name in the window as well as most having an item illustrated - some of which being modelled by our slightly festive deer illustration. The brands involved were the amazing Boho Boheme, Cossac, The Fabelist, Fair-T, Faulkner London, Friendly Socks, Jara Wine, Where does it come from?, Wilby and US Fashion Source.
Everyone loved the piece and the weekend was successful for all involved. We were really happy to be part of it.
Next up, on the second to last weekend before Christmas the lovely people at Accelerator gave us the chance to sell our wares at Old Spitalfields Market! We collaborated with Porter Longboards too, and they joined us on the stall with our 'Festival of Birds' board design. We sold limited edition prints (which we hope to have available on here shortly too) of the same work and some special Christmas cards. We had a fantastic day and it was all captured by the amazing Lonely Monster.
Last but in no ways least we can announce our recent work with Ănjoy - Vietnamese Street Kitchen. It's still filtering through to their social media, but we produced their identity and the wall art for their first street kitchen-styled cafe. They really loved the work we did on the Shoreditch Art Wall, and really wanted something in our style for their walls. This ended up knitting in well with the identity we produced - so much so that the idea for one of the walls changed to being part of their identity. The other wall we really wanted to blend a vietnamese element into our work. We ended up deciding upon capturing a Water Buffalo - one of Vietnam's national creatures. We then came to also using Red Jungle fowl both in a limited colour palette in line with the identity.
Vietnamese food is known for being healthier than other cuisines amongst other great benefits. Along with being run by some great people it's been fantastic working with Ănjoy. Here's a few shots from their recent opening celebrations, with more to come with our forthcoming portfolio update.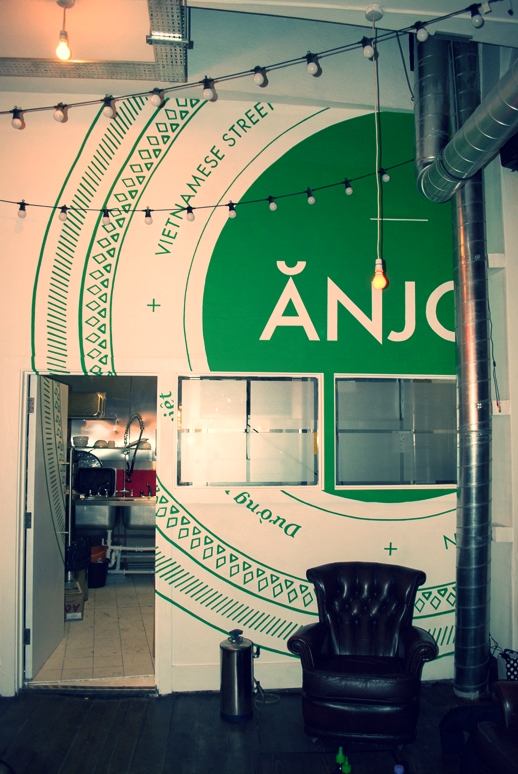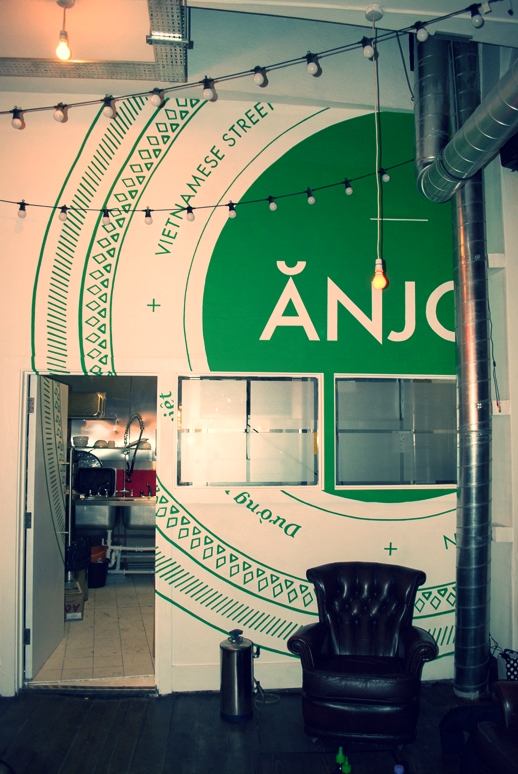 If that's not enough, we were also hoping to write about some more exciting news in this blog. But you'll have to wait just a little bit longer for that one. All will be unveiled shortly!